DuraCOR Pi is the first rugged mission computer in a MIL-STD sealed housing, fully compatible with the Pi Developer Ecosystem. The device is based on the industrial Raspberry Pi Compute Module 4 (CM4) which provides defense and aerospace systems designers with a stackable unit offering complete compatibility with software created by Raspberry Pi's over-seven million user community.
The DuraCOR Pi is small enough to fit in the palm of your hand, weighing only 230 grams and measuring 30.5 x 63.2 x 84.8 mm.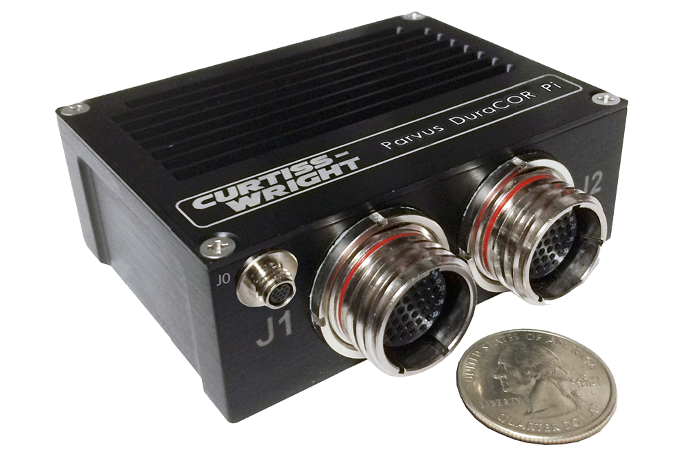 Scalable and stackable system solutions
Thanks to a unique Expandable Ring system design, products from the Parvus range can be stacked, significantly increasing their functionality and performance. This allows systems designers to properly configure sets of DuraCOR Pi mission computers and Hardware Attached on Top (HAT) modules needed for particular applications. The ultra-small form factor DuraCOR Pi mission computers can be also be stacked with the similarly small Parvus DuraNET 20-11 network switch which provides Ethernet Level-2+ management features including IEEE-1588v2 Precision Timing Protocol (PTP) support.

DuraCOR Pi additionally supports I/O expansion by means of a standard, RPi 40-pin HAT connector. The unit can be expanded effortlessly with further HAT modules through an expansion ring system allowing easy stacking on top of the housing. GPIO and serial I/O as well as signals from the 40-pin HAT connector are accessible through a MIL-STD-38999 connector located in the front panel of the unit, which greatly supports common I/O options and HAT application development.
Fully rugged, yet incredibly compact
The SWaP-C requirements regarding rugged mission systems may provide significant design barriers for many platforms. The Curtiss-Wright DuraCOR Pi is an affordable ultra-small form factor rugged mission computer based on open standards. The device was created for applications in the most SWaP-C constrained defense and aerospace platforms including UAV's, UUV's, and UGVs.
DuraCOR is perfect for providing connectivity and computational capabilities in scenarios where larger and heavier alternatives are not acceptable. Thanks to the widely used RPi development environment, the DuraCOR disentangles the integration of mission computer capabilities with unmanned and manned platforms capable of operating in noisy electrical conditions and harsh environment conditions.
Curtiss-Wright has long been known as the innovative supplier of rugged small form factor mission computers and network products. The company has taken advantage of its expertise in MOSA system design and packaging to enable the deployment of affordable, ultra-small RPi computing solutions in military applications. Thanks to the MIL-STD ruggedization, the DuraCOR Pi meets the rigorous requirements for ultra low SWaP-C in applications such as edge computing, IoT gateways and wearable solutions.
DuraCOR Pi was designed with speeding up and facilitating network connectivity for mission computing in mind. This is facilitated by built-in Ethernet interfaces paired with WiFi and Bluetooth support.