In a world first, LEDATEL in cooperation with Newag and Koleje Dolnośląskie, has implemented on-board electronic paper technology from E Ink for passenger information replacing printed posters in vehicles. The solution creates a new standard in the eco-friendly public transport. Electronic paper technology saves electricity, making it possible to remotely manage the displayed content.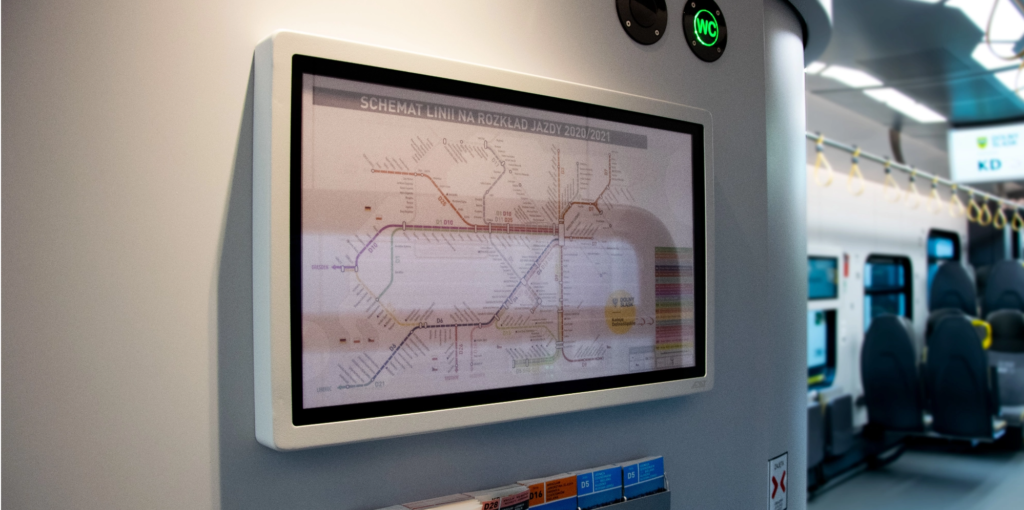 "As the first company in the world to offer such a solution, LEDATEL were able to provide rail vehicles with a system based on e-paper technology. Thanks to the work of the organization's mechanics, electronics and IT specialists and the cooperation with Newag, we've managed to create a unique product for Koleje Dolnośląskie, which is used to display content, such as regulations or maps." – said Paweł Korczakowski, IT Systems Sales Engineer at LEDATEL.
The innovative system replaces printed posters with color displays and a platform for remote management of displayed content. The devices consume a minimal amount of electricity, only when the displayed content is being changed. After this brief process is complete, power consumption falls to zero. The displays' high-quality of contrast does not strain the eyes of the reader just like in the case of traditional paper.
The LEOINK platform can be used on mobile devices and PCs. It lets users manage the emission time and length of the displayed content, set up device groups, and remotely diagnose proper operation of the devices.