Vehicle to Land Communication System/Geolocation - Ledatel
Constant communication between ground infrastructure and the moving vehicle. 
Because data exchange knows no downtime.
Provides secure, wirelesss communication between the vehicle and the ground infrastructure via a WiFi network or LTE. This connectivity is of critical importance and is used for the real-time exchange of operational data on the move. The performance and reliability of this link and the associated Ethernet-based systems are key for the efficient, safe and comfortable transport of people and goods.
Vehicle Diagnostics and Controls (TCMS)
Passenger Information System (PIS)
Video surveillance (CCTV)
Multimedia solutions
Commercial Broadcast System
Diagnostics
GSM infrastructure examination
We offer a free GSM/LTE signal quality measurement on a given route. The trial is carried out during a dedicated test drive or during a normal run using LEDATEL equipment installed in the vehicle. After the test, clients receive a free report containing such information as: coverage percentage and the quality of GMS/LTE signal for each provider, the distance of BTS stations from the vehicle route and route sections without any GSM/LTE coverage. The report is a key tool for the implementation of wireless Internet for passengers. It also facilitates the proper selection of mobile providers and the number of SIM cards necessary for the system to work efficiently and reliably.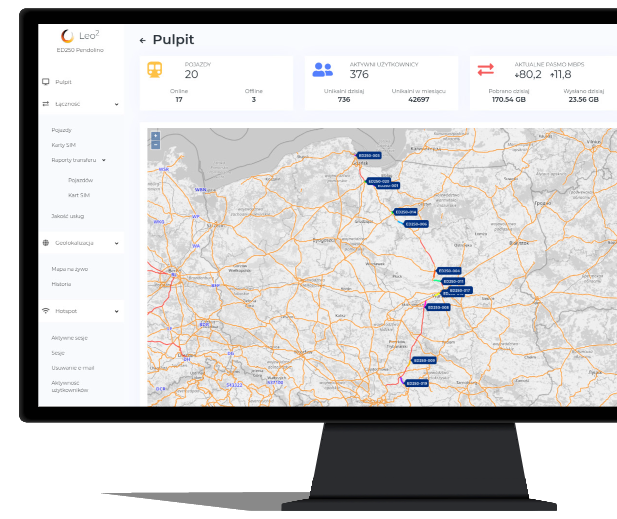 Main features, tasks, and functionalities
Encrypted SSL connection
Tunneling of VPN traffic, IPSEC
Aggregation of GSM modems into one physical link
Up to 16 LTE modems
WLAN 2.4/5 GHz connectivity at parking stations and in service halls
Map with precise geolocation for vehicle- in-motion tracking including its current speed and precise position, as well as maintenance planning in train yards.
Quality of service – SLA connections for individual routes
Compliance RED 2014/53/EU requirements
Automatic WLAN data exchange when the vehicle is parked at the depot/station
One antenna support for all frequencies
GSM-R, GSM 1800, UMTS, LTE, WLAN, GPS, GLONASS, Galileo, BeiDou antenna system
Dedicated 4-8xLTE 2xWLAN 2.4/5 Ghz GPS railway router
Dedicated 3×3 MIMO 2.4/5 GHz ac access point