Ethernet TBN IEC 61375 System - Ledatel
A reliable network connecting all subsystems and devices installed in the vehicle.
The nervous system of a modern train.
Safe and reliable Ethernet network which connects
all subsystems and devices installed in the vehicle.
Fully compliant with the IEC 61375 standard.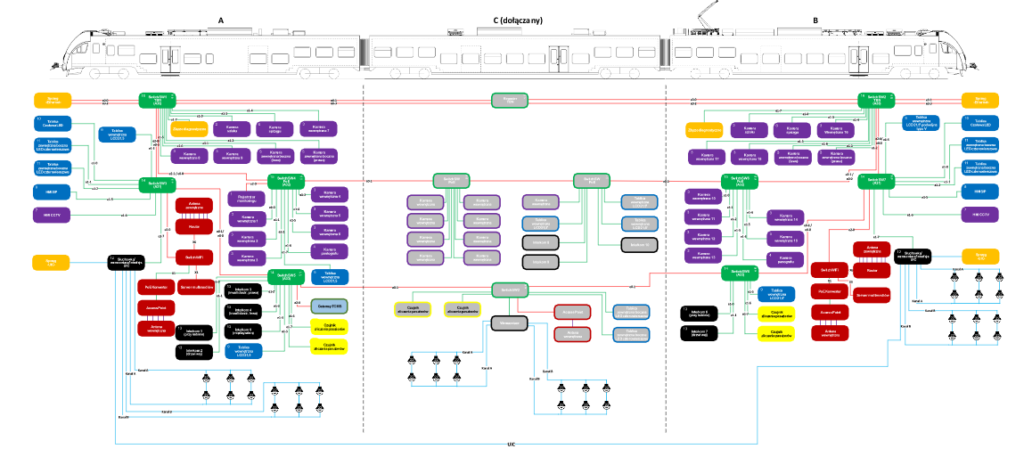 IEEE 802.3u Fast Ethernet
IEEE 802.3ab Gigabit Ethernet
IEEE 802.1Q Tagged VLANs
IEEE 802.1D Spanning Tree Protocol
IEEE 802.1w Rapid Spanning Tree Protocol
IEEE 802.1X Port-based network access control
IEEE 802.1AB Link Layer Discovery Protocol (LLDP)
IEEE 802.3ad Link Aggregation Protocol (LACP)
Railway standards:
IEC 61375-2-5 – Ethernet Train Backbone (ETB)
EN 50155 – Temperature, humidity, shock, vibration and other parameters of electronic equipment used in rolling stock
EN 45545-2 – Requirements for materials and components in terms of fire performance
EN 50121-3-2 – Electromagnetic compatibility
Main features, tasks, and functionalities
Ethernet Train Backbone Network compliant with the IEC 61375-2-5 standard
Design, topology and IP network addressing
Routing and translation (R-NAT)
VLANs, IGMP, Spanning Tree Protocols (STP/RSTP) and the possibility of applying the Quality of Service (QoS) policy.
10 Gb, 1 Gb and 100 Mb Ethernet ports available
PoE+.
The bypass function makes the device completely transparent to the network in the event of a voltage failure or error. This helps to avoid or reduce the negative impact of potential interruptions or malfunctions of the network
Ring, Linear, Ladder and Mesh topologies
Automatic configuration of a replaced device by means of data transferred from neighboring devices.
Backbone switches TBN 5xFE or 5xGbE
Repeater- 4xFE or 4xGbE, Bypass
Integrated TBN 6xGbE+8xFE PoE/ No PoE, Bypass 
Consist Switch 14 ports, 6GB+8FE PoE/ No PoE CS 6GB+8FE
Consist Switch 28 ports, 5 x 10GbE ports/ 5 x GbE ports + 11 x GbE ports (4 PoE) + 12 x FE PoE+/No PoE