Passenger Information and Commercial Broadcast System - Ledatel
Comprehensive tool for the intuitive editing of visual and audio messages for passengers. An indispensable companion for any comfortable and safe journey.
The task of the system is to broadcast visual and audio messages inside and outside of the vehicle. PIS integrates with any timetable creation system and the application allows the carrier to construct timetables on its own, that is to define services, junctions, and stopping stations for passengers. Timetables are synchronized via the GSM/WLAN network and, if necessary, via a USB stick.
Monitoring data displayed by the system on the vehicle
Creating and editing timetables, junctions, services, stations
Viewing timetables on passengers' mobile devices
Tracking the route of the vehicle, standstill time, delays and the progress of the traveled route
Managing voice announcements for individual railway stations
LEO Rail Central
Application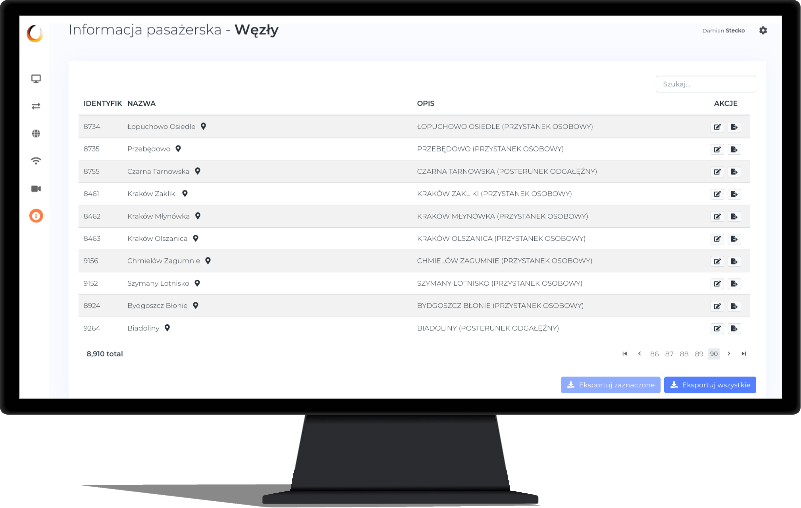 The central Passenger Information System management application allows you to create new timetables and edit existing ones. Users can add special and additional messages assigned to a line, brigade or a given stop. The application also enables adding and removing voice announcements as well as changing their sequence. The shared API allows the data to be read by other applications installed in the vehicle.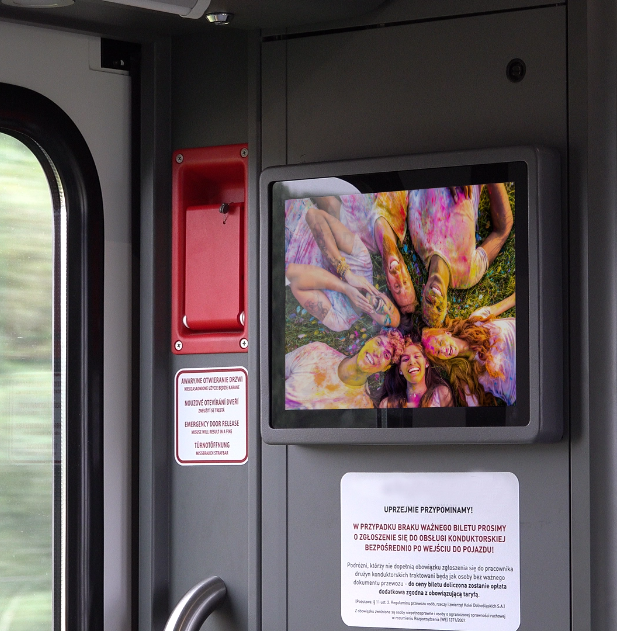 Commercial Broadcast System
Enables the distribution of multimedia content to LCD and E-INK screens.
Advertising is displayed based on user-defined parameters, such as time interval, geolocation, stops or line.
Cooperates with the Passenger Information System to present additional data regarding the passenger timetable.
The application managing the system is based on a web browser, allowing users to create playlists with the displayed content, taking into account the duration, schedules and additional messages triggered on request. The system also enables the use of data from the Passenger Counting System in order to better target advertising campaigns.
Main features, tasks, and functionalities
Monitoring data displayed by the system on the vehicle
Creating and editing timetables, junctions, services, stations
Viewing timetables on passengers' mobile devices
Tracking the route of the vehicle, standstill time, delays and the progress of the traveled route
Managing voice announcements for individual railway stations
ELLT SIP HMI Controller
Multicolor LED displays (front, side, and rear)

22" LCD displays in a single or "V" configuration which can show route info, ads, and carrier announcement

Indoor 37"-42" LCD displays presenting the timetable