Passenger safety and stellar carrier reputation. These are the two main benefits of an efficiently maintained fleet of vehicles. LEDATEL has created a proprietary system which clearly and intuitively delivers real-time key data about the condition of trains and trams. It gives a sleek, comprehensive overview of vehicle operations without excessive load to the GSM link. This enables operators to act proactively, reducing downtime and maximizing their fleet's potential.
Rapid diagnostics and data economy
LEDATEL's Online Diagnostics System collects data via CAN bus, RS, and Ethernet without an upper limit to the number of signals. Information aggregated by the system is sent to the server in an optimized process which guarantees minimal GSM link usage en route and WiFi while at the depot. Our proprietary solution utilizes two variants of listening to data, offering economical GSM transfer usage and unprecedented low latency.
Continuous alarms-only mode ensures the lowest possible data consumption, offering real-time monitoring of potential problems and displaying appropriate notifications on screen.
The system also includes the option of listening to all possible parameters of a specified vehicle. This mode automatically minimizes and adjusts data usage depending on the queries sent by the user.
An additional feature of the Online Diagnostics System is the possibility of saving all historical signal data and archiving it on a central server by means of WiFi download.
Screens and interface
The system panel contains comprehensive information pertaining to the technical condition of the entire fleet. It's design offers maximum functionality and top comfort of the user responsible for live fleet monitoring. A fast and responsive interface is optimized for PC, smartphone, tablet and TV screens and includes a dark and light mode.
The alarms screen comprises scalable tiles showing the alarm status of all vehicles. Information is presented in five colors denoting proper operation, the presence of various types of malfunctions, a failure, and no data. Alarm levels can be easily set up by the user do fit their need and preferences.
The signals screen is the most extensive element of the interface as it gives and overview of all available signals. It is divided into four main sections.
The map shows real-time vehicle location.
The favorite parameters sections lets individual users define a precise list of displayed signals catering to their work needs and optimal comfort and experience.
The defined lists take up the majority of the screen and are dedicated to displaying signal lists filtered by appropriate tags.
The all signals section presents parameters from devices grouped by category. It also contains a signals search bar giving quick access to key data required in a specific situation.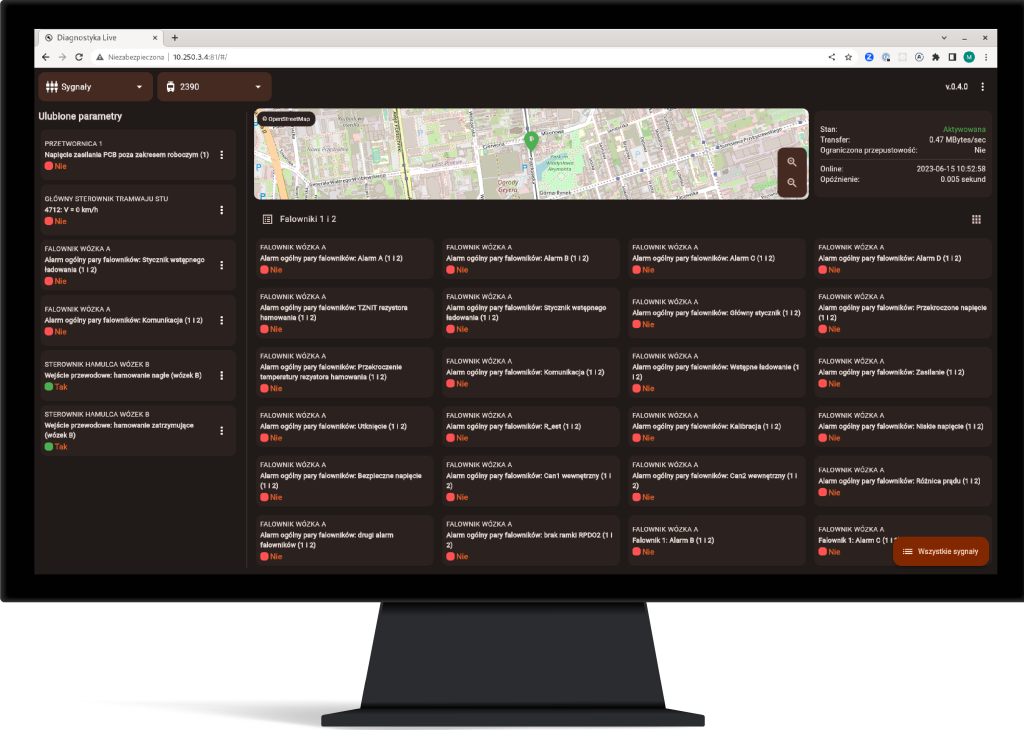 The newest functionality of our system is Multi Diagnostics which allows simultaneous monitoring and comparison of signals from all or specifically selected vehicles.
History on demand
The system records historical data regarding malfunctions, failures, and their causes. It also archives the precise times of when they started and ended. The system's data compression optimization facilitates effective export in XLS and CSV formats.
Open to integration
Our solution promotes openness. Utilizing MQTT Broker and Rest API, guarantees hassle-free integration with third-party devices and systems. LEDATEL has been a long-time supporter of this global standard and has widely integrated it in various projects.
Implementation
The newest version of LEDATEL's Online Diagnostics System has been successfully rolled out in Modertrans trams manufactured for MPK- Łódź (Municipal Transport Authority in Łódź).
Contact us to find out how we can tailor our innovative solution to the needs of your business.